All-electric Aston Martin Rapide E uncovered
17th April 2019
• 0 Comment
602bhp super-saloon is iconic brand's first EV and has a targeted range of 200-plus miles
Aston Martin has unveiled the production model of its Rapide E – the brand's first all-electric car.
The car – the first to be produced at the iconic brand's new assembly plant at St Athan in Wales, is ostensibly a reworked version of the existing petrol-powered Rapide saloon. Production will be limited to 155 units.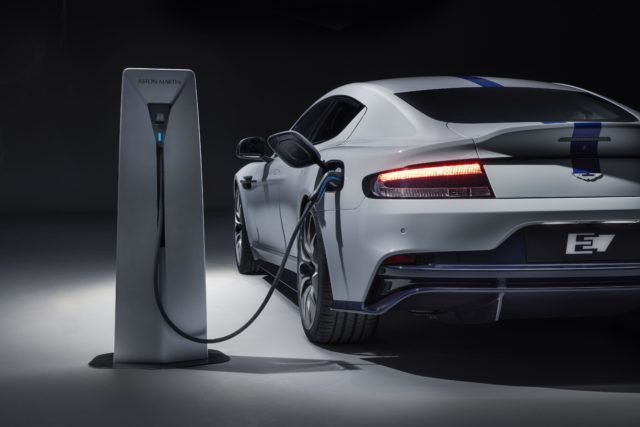 It uses a 65kWh battery pack, mated to a pair of rear-mounted electric motors. These produce a combined 602bhp and 950Nm of torque, allowing the Rapide E to sprint from zero to 60mph in less than four seconds and on to a top speed of 155mph.
Aston Martin says it is targeting a range of more than 200 miles on the tough WLTP testing regime. Charging the Rapide E should be a snap, too, as the car features an 800V battery system that allows it to get to full in less than an hour from a 100kW battery charger.
The car's styling has received a refresh in its electric transition, gaining cleaner lines, a new honeycomb grille, new front and rear splitters and a set of aerodynamic alloy wheels. Aston Martin says the updates help to minimise drag and maximise electric range.
The cabin has been less drastically made over and retains the same dashboard layout as the petrol-powered Rapide. However, Aston has fitted an EV-specific digital gauge cluster to replace the analogue dials, which relays information such as charge state, energy consumption and regenerative performance.
Speaking ahead of the reveal, Aston Martin chief executive Andy Palmer said: "Unveiling the Rapide E will be a huge moment for Aston Martin. As our first all-electric production car, it is a truly historic step – one that signals Aston Martin is prepared for the huge challenge of an environmentally responsible and sustainable future."
"As a car company, we cannot afford to passively allow that future to come to us; we have to actively chase it. Only by doing this can we learn and prepare, but also preserve those things we love as drivers and car enthusiasts."